As a wrinkled, sagging 70 year old, I so appreciate the lift of good news. Better than a face lift, a lift in my spirit, in my understanding, in my level of JOY in knowing the whole truth, and nothing but the truth. This post has a glory filled purpose! By listening to TRUTH we get renewed, regenerated and resurrected from the dead! AMEN Take time to listen and take notes as this RAPPER gives you something NEW to fill your skin with!
Rapper Jason Sobel makes sparks fly as the Holy Spirit WOWS us with deeper meaning! The first miracle of Jesus, YEShua, the Messiah was when He blew peoples minds by turning ordinary water into wine! Why were there 6 pots? Why was the wedding held on at Tuesday? Why were his hands and feet pierced? ENTER your exciting destiny with greater HOPE! Jason reveals the Word of God vividly in HD, a Higher Definition that we get our FULL inheritance! We cannot live fully in Christ without fusing the Old and the New together. God wants to bring you into a broad and spacious land. Lord God, let us see the wonders in Your word, give us new revelation! If you do NOT read any further, listen to this 30 minute BOOSTER!
Rabbi Jason tells us that our FAITH is strengthened by our REMEMBRANCE, lest we fall into amnesia. We glorify Adonai when we REMEMBER what He did for us and in us. PEACE comes to those who reflect, who REMEMBER all that the Lord has done. REMEMBER that our Lord God said that He would personally be at war with the ongoing evil spirit of DOUBT that comes to destroy our faith in God. Take time to REMEMBER your personal exit out of your Egypt, your depression, doubts, bitterness, anger, or personal persecution. Have I ever doubted if God is with me? WHY is it important to BLOT out DOUBT, a form of UNBELIEF? Barriers to Healing Do you DESIRE to WIN the battle against ….life in this fallen world?
Jason Sobel grew up in a traditional Jewish home in the self-described "Holy Land" of New Jersey. He smiles wide and share that he counted more Jews in Jersey than in Jerusalem. He attended Hebrew School and was fêted by family and friends at his Bar Mitzvah. "I became a hip hop DJ and was working in the music industry for a large recording studio in New York City," Jason also founded "Fusion Global" where you can sign up for regular emailed Bible Studies. At 18, he began to train under his Rabbi and God blessed his mind to connect the dots for us.
Jesus doesn't come to bring death; He comes to bring life, what's the sign of the life of the Messianic kingdom? It's the new wine." These and other illuminating insights are contained in Sobel's masterful book. "There's just layers and layers, that when you connect this, you see the depth and the beauty of the redemption and also how the story comes together with greater detail."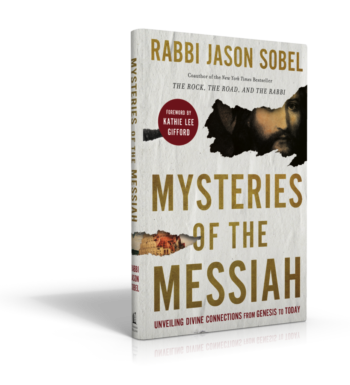 "It describes how everything in the five books of Moses and a lot of the Hebrew Scriptures point to Jesus as the Messiah, it's kind of written as a road to Emmaus experience, where Jesus showed how everything in the law and the prophets pointed to Him.
Sobel says the book is written for Christians who want to learn more about the Jewish roots of their faith as well as Jewish people exploring the opening chapters – where they will find a job description of the Messiah.
Rabbi Sobel described the time he bought his first high-definition TV, did not see a big difference compared with his old TV, but later realized he had been watching standard definition channels. "I feel like many people are reading the Bible in standard definition. If you don't know the details of how the old and the new connect, you're not going to fully see it."
There is great blessing in remembering, and not forgetting. The unbelief of 3 million Jews was a result of forgetting or discounting all of what God had done for them. A generation was therefore skipped and they never made it to the Promised Land. Their unbelief caused them to waste away in doubt in the desert. "For the Lord had said to Moses, "Say to the children of Israel, 'You are a stiff-necked people. Moses said to Aaron, "This is what the Lord spoke, saying: 'By those who come near Me, I must be regarded as holy; And before all the people, I must be glorified." Lev 10:1 —
Joy and faith are acts of the will, so we must NOT forget all that the Lord has done in our lives! AMEN. "This is the day the Lord has made; I will rejoice and be glad in it." Psalm 118:25
Remember the road to Emmaus (Luke 24:13–31), Jesus was not recognized until Jesus broke bread with them. His book explains the patterns and significance of numbers associated with letters in Hebrew. So what? The number value of 2: God created the world in twos. He created heaven and earth, light and dark, day and night, the sun and the moon, the sea and the dry ground. He created man and woman. also alludes to the fact that there are two worlds—this world and the world to come.* This world prepares us for the place of ultimate blessing. The value of numbers in Hebrew reminds us that we are not living for this world but for the sake of the next. God created the world in twos—heavens and earth, spiritual and material. These are meant to work in harmony. Bet or 2 also represents blessing. When the 2 opposites come together, God's blessing is fully released. Get your full inheritance! The Audiobook allows you to read along. Be prepared to BE stilled by NEW revelations! Imagine sitting with Jesus and having Him explain the Old Testament. What is a Seder? The Passover? Prepare to be Passed Over
SIGN UP to receive teaching by Jason on his website. https://www.fusionglobal.org/weekly-portions-sign-up/ PURIM TEACHING: "In a world of so many anti-depressants, self-help books, and people struggling to find happiness and purpose, what brings us joy? What brings us true contentment in this world and in the age to come? Doing the will of God and fulfilling our destiny is what ultimately brings the greatest pleasure. This calls to mind that beautiful line from the famous movie, Chariots of Fire, "When I run, I feel His pleasure." When we do what we are created to do, we find the pleasure of God. We will never experience the fullness of pleasure unless we are really willing to act. Friends, it is not a season to hedge our bets, play it safe, or hold back. It is important to identify who has encouraged you in the Lord, and how the unseen Holy Spirit has given you courage to do things that on your own, you would not do? Our Father asks us to encourage one another, and to heed the instruction of those He puts on our path to correct us. The story of Esther teaches us, that even though we cannot see God, or clearly hear His voice, He is always with us, and always at work behind the scenes. – We wisely fear doing nothing with all that God has given us. God not only calls us but He equips us with every good and perfect gift. Every good work was written in His book before we were even born. We are called to action today, "for such a time as this." Purim is a time to not only celebrate God's concern for our lives but His calling! We worship a God who is love, and that love was expressed in His deliverance: "But God demonstrates His own love toward us, in that while we were yet sinners, Messiah died for us" (Romans 5:8). This rescuing God has called and equipped you to participate with Him in this glorious mission, and that's something worth celebrating! And this is why one of my favorite holidays in the year is the celebration of Esther known as Purim. In our Messianic congregations in Hollywood, we host an Esther's Ball, which brings together Jew and Gentile, young and old, and many different streams together to remember that historic moment.
With great JOY I remember how Yeshua delivered me from pain, despair, and depression! In 2006 as I cried out in horrific pain before back surgery, I watched "The Passion" multiple times. As I whimpered in pain, the Holy Spirit comforted me. When I felt broken beyond hope, He whispered give me your burdens and rest in Me. When I first believed in 1985, at a Pentecostal Revival, the Holy Spirit rose up in me and to my astonishment, I stood up and spoke in tongues, which was totally foreign to this Catholic raised sinner. My abusive earthly dad was replaced with a tender Father who revealed Himself vividly as I read through the book of John. My family expected back then and perhaps now 27 years later that I may rejoin them in reality. Oh no – I do not belong here, I am a child of God Almighty, signed, sealed and ready. "But our citizenship is in heaven. And we eagerly await a Savior from there, the Lord Jesus Christ." Phil 3:20 NIV During PURIM in 2022 and all the way into PASSOVER and the FEAST OF TRUMPETS I will rejoice in all the the Lord has done, and in His plans for me, and that my future is bright because He is faithful and the Word of God is infallible!